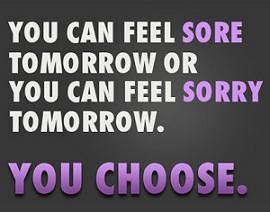 Jillian Michaels 30 day Shred, one of the much talked about exercise DVD on the market today.  About a month ago I decided to include exercise into my lifestyle and asked on my Facebook page what people were doing and what they would recommend, it seemed 30 day shred was the popular choice.
I headed over to Amazon to find out more about the product, what can I say the reviews there blew me away, that was it… I had to get it.
NO MORE EXCUSES
Day 1… I knew it wasn't going to be easy but hey the woman is a killer, a "she devil" as some others refer to her.  In the pass I've had gym memberships and worked out for an hour at a time but after just 20 minutes with Jillian you feel like you've done a 2 hour workout, this was fantastic news.
Day 2… Woke up feeling a little sore and achy, but that was to be expected, found myself cursing at the TV during the abs work out, but kept reminding myself that it was all going to pay off, NO PAIN NO GAIN right!!
Anyway at the end of each week I recorded my result on my Facebook page, you can read all about it here ==> The Beginning Of The Shred
LATEST UPDATE
Day 10 on the shred and I aggravated an old ankle injury so took time out to let it heal, well actually 2 weeks.  So Wednesday 21st March was time to get on it again, BOY didn't think I was going to feel sore all over again… But knew it was going to pay off.  And the fun bit, I have got my other half doing jumping jacks too.  I did read somewhere that the best exercise buddy you can have is your partner so hope this is true, we both desperately need to get fit, for ourselves and for our kids.
My measurements this week remains unchanged, this was expected as I have only just begun working out again, and hopefully next week there will be a difference. I so desperately want to complete the full 30 days.  Am I a sucker for punishment lol…
Getting Started

When I first started doing the 30 day shred I was using 2 x 400g cans of beans, as weights and a towel to lay on but have since upgraded to 2 x 2.5lbs weight and a proper yoga mat, my strength is definitely improving.  Its rather surprising how well your body copes when it's pushed to the limits.
I now have these dumbbells and exercise mat…

What Exactly Is The 30 Day Shred?
So for those of you who have never heard of the 30 day shred your probably wondering what exactly is it, this is a quick overview.
A fitness DVD consisting of 3 levels, each made up of a 20 minute workout, you start at level 1.  As the days progress and you feel fitter and stronger you move onto levels 2 and build onto level 3.
The workouts are based on a 3-2-1 format.  3 minutes of Strength, 2 minutes of Cardio and 1 minutes of Abs, which are made up of regular moves like push ups, jumping jacks, crunches and a combination of moves using small hand weights for total maximum strength and burn.
Would I recommend this product? How many stars would I rate it?
This is a product I highly endorsed, given the results I have seen so far. I give this product Five Stars
Have you started doing Jillian Michaels 30 day shred?  Have you seen success?  Please share you stories below. If you have before and after images that you would like to add to this review send them to images[at]loseweightlookfab.com (replace [at] with @)
Getting Shredded with Jillian Michaels (part 2)
Getting Shredded with Jillian Michaels (part 3)
Getting Shredded with Jillian Michaels (part 4)