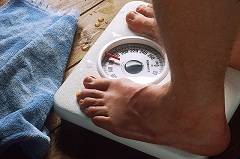 I'm not sure if it happens to the most of us or just me but the days leading up to weigh in day I dread.  Regardless of whether I have been good or not you just don't know what to expect, and especially as Christmas and New Year's eve has just ended.  Well on this occasion I can say the outcome was much appreciated with a loss of 3 whole pounds… Woo Hoo!!
Although at the beginning of this week I set a goal of 7 pound loss in the next six weeks this has now put me ahead of the game, but as you know anything can happen.
On the exercise front, this is beginning to make good progress and my fitness levels is already starting to gain momentum, in a way I think this is a great contributor to the good loss.
As mentioned in a previous post I like to give myself a treat meal on weigh days, so after having a very late breakfast of a couple of pieces of wholemeal toast, cheese and chutney, which by the way was delish, I had a banana and mandarin for afternoon snack, which will then tie me over until  this evenings treat, which by the way is a couple of slices of pizza and a few squares of dark chocolate with ginger.  Yes I know some of you are saying I could have made my own pizza to cut calories but having a treat on weigh days stops me from feeling deprived, and helps to keep me on track.
There are still 6 days ahead of me to keep on top of things and make sure that the food choices I make from tomorrow morning onwards are good ones, along with putting in 30 minutes or more of daily exercise, the scales next sat should be in my favour.
So how do you feel in the days leading up to weigh in, have you had your first weigh in of the New Year yet?  Please do share your thoughts with us below and enjoy your weekend 🙂