Really, has it been that long?  Almost 2 weeks since I last wrote a personal blog post.  So how are you lovely people keeping, are you enjoying the snow if you've had any?  With the plummeting temperatures I have found it very hard to keep on track.  Exercise has slowed somewhat too, although the kids have kept me busy out on the snow with their sledges.  Luckily I have only fallen over twice without any injuries.
Things are looking up for me to start couch 2 5k in the coming days with the snow finally in the melting stages so I've got my running shoes at the ready.  I have downloaded the podcast onto my phone so no excuses in getting started.
A couple of days ago was my birthday, quite scary with each year that passes now because I know that I want to improve my health and fitness before it's too late and so far so good,  my daughter reminds me I'm getting old, as I have a big number now lol.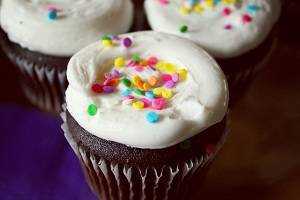 As it was my birthday I went a bit mad with the food decisions that I made as I started the day with a proper full English including fried bread, and you know what I enjoyed every mouthful of it but, it's not a food I could eat every day or anytime in the near future, it was a rare treat.  To avoid having lots of birthday cake about my Other half made cupcakes with the kids just enough to have one each and they were very delicious too :-).  To finish the day we had a Chinese take-away, and the decision on this one wasn't as bad because I chose a portion of vermicelli noodles.
On a more positive note, yesterday and today have been more focused, I stayed on plan 95% of yesterday and so far today I'm totally in control.  With my weigh in only 2 days away I need to limit any damage done.  I would be happy with a maintain but trilled if there is a loss, I won't be disappointed if there is a gain as I have a reason for it, but doing my hardest now for it not to be.
I am on the count down now for spring/summer when I know things will be easier, it's just so difficult in the winter months when all you crave is stodgy comforting food.  How are you dealing with the cold weather and your healthy eating/fitness plans?  Would like to hear what you have to say on the matter ❤